Parent Survey/Feedback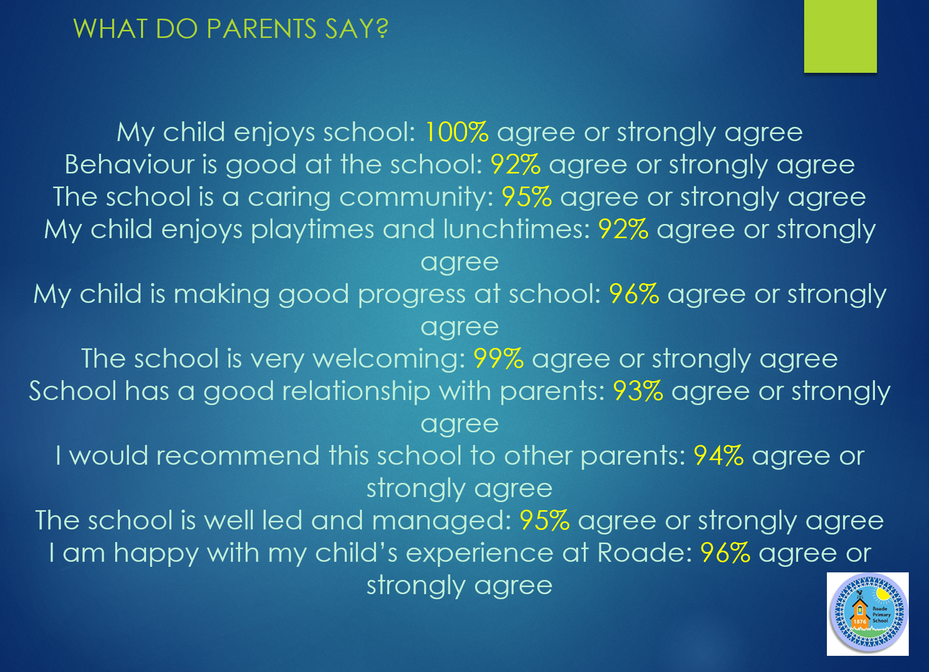 Here are the responses from the most recent Parent Survey
Responses: 87
Pupil's wellbeing: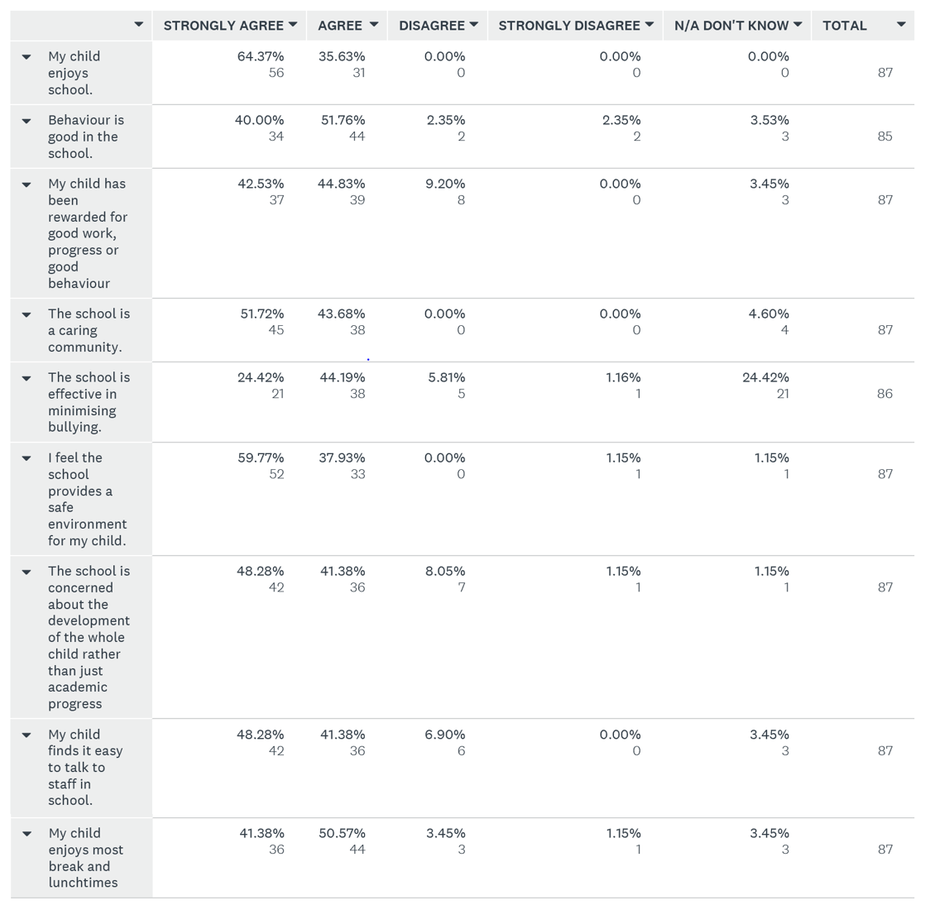 What we see from these results:
This is overwhelmingly a positive picture.
The "strongly disagrees" that are mostly from one response.
The 8 responses that disagree that the school rewards their child's behaviour or hard work may need our team points/house point system explained to them-perhaps this is down to the school not being explicit about how we reward our children continually for both positive behaviour and attitude.
There are 5 responses that do not think that the school responds quickly to minimise bullying (despite the overwhelming 68.61% of parents being satisfied-with a further 24.42% that don't know) this needs investigating within school.
6 responses say that their child doesn't find it easy to talk to staff in school-this needs further reinforcement
7 responses say that the school is not concerned with the development of the whole child-the most worrying response for the leadership of the school and needs much greater levels of investigation.
What we can do following these results:
Review the antibullying policies and procedures with all staff and remind children of our values and their responsibilities and the role they play in making our environment as positive as possible. Whilst reviewing these procedures we need to discuss with our staff and children about recognising who to go to and when. Talking to an adult is important!
Review the rewards and sanctions for good (and bad) behaviour. The school could take a harder line on low level behaviour on the playground-already there are sanctions in place but we could increase the severity by using more exclusions from school. This level of fixed term exclusions and removal of children from the playground will not be popular with children or parents and at this stage we do not believe it is warranted.
Share with parents the house point system-put on the website?
Review the school's commitment to sport, art, music and drama-look again at the creativity throughout the school and ensure that there are as many opportunities for creativity as possible. The school already does a lot-is this a lack of knowledge from parents? This could be a communication issue.
Teaching and Learning: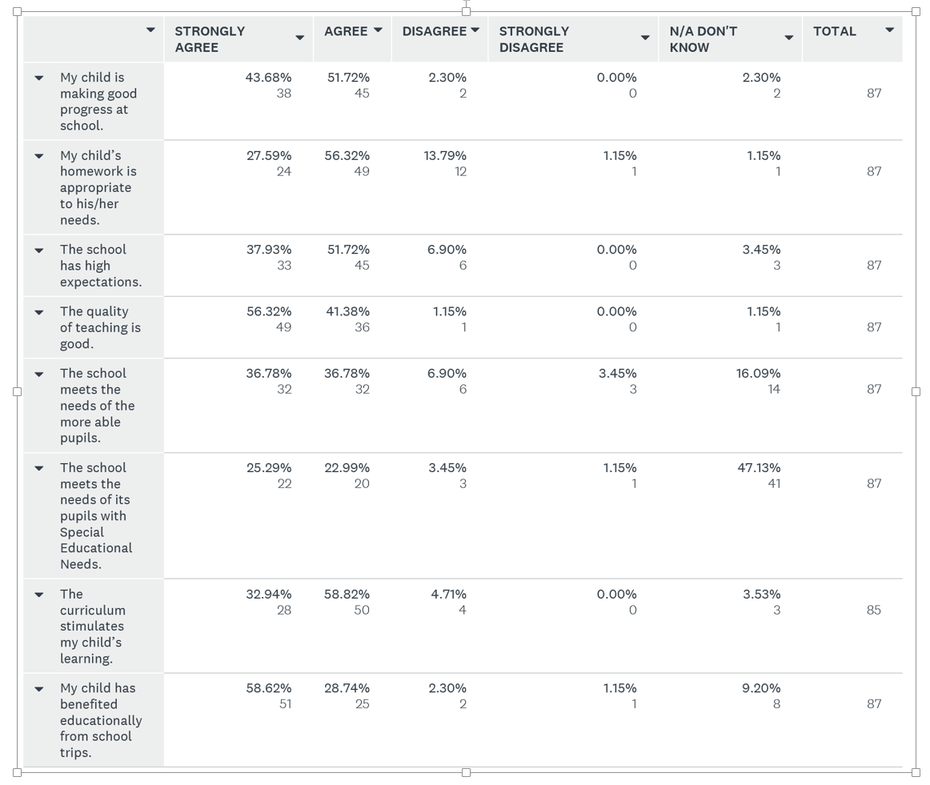 What we see from these results:
This is overwhelmingly a positive picture.
6 responses say that the school does not set high expectations-this is a surprising response considering our results-perhaps when the league tables come out the school should be more vocal?
There are a few responses that say the school, doesn't stretch the more able enough
The largest negative response is regarding homework with 13% thinking that the homework is not appropriate.
What we can do following these results:
Review the expectations and challenge throughout our lessons and ensure that all staff have the development of the higher standards as a performance management target.
Ensure that our results are published to all parents showing the very high standards our school has achieved over the last three years.
The school is frustrated with the parental response to homework. In every survey we have been criticised about homework. Some parents believe that we do not do enough and some believe that we set too much. It seems we cannot win! By looking at some of the comments from parents on this survey it is a really mixed message. Although we must not lose sight that 84% of parents believe that homework is positive-we should explore what it is that we could change to bring the negative responses down. Homework is an important aspect of a child's school career-it will be staying. We have tried creative homework, homework with choice, specific homework, simple homework, challenging homework, research homework, there are very few options that we haven't tried. A suggestion is that we invite parents in to arrange a working group to show how homework could be improved.
Parent/Carer support: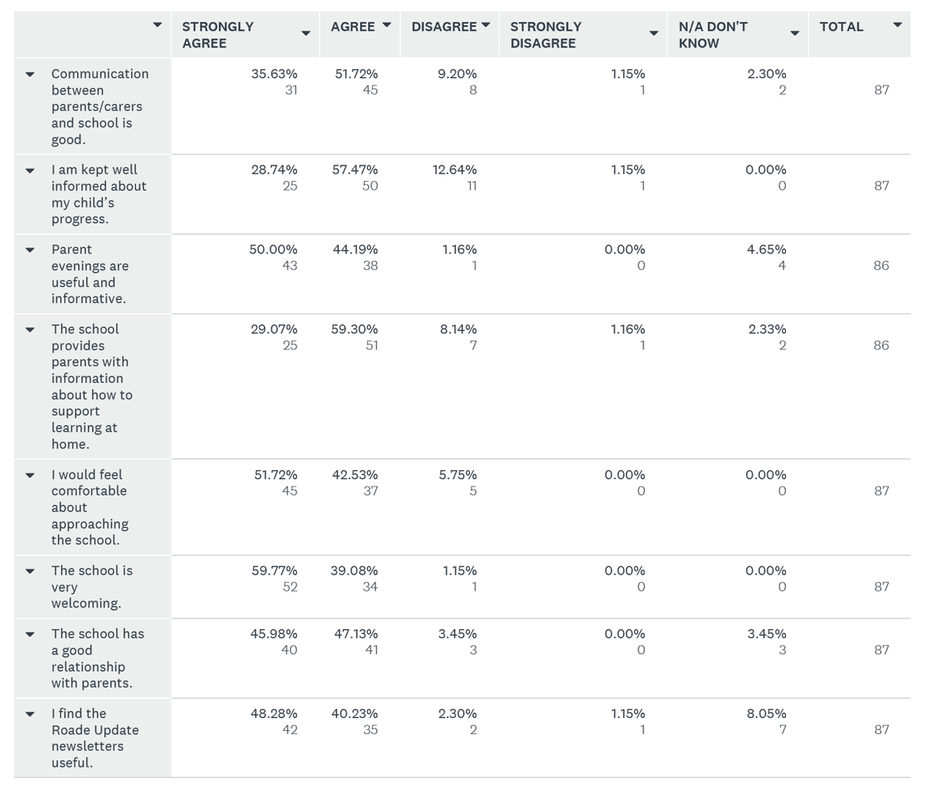 What we see from these results:
This is overwhelmingly a positive picture.
8 responses are not happy with the communication between home and school
11 responses want more information about the progress of their children
7 responses believe that the school could do more about providing parents with information to support their child at home.
What we can do following these results:
The admin team will look at increasing the communication between school and home.
More information will be put on the website and there will be a greater emphasis on parents needing to look for information having been signposted.
Reinstate a regular school newsletter
Look at the capacity of the admin team in school to be able to increase further communication with home?
Have those parents who wanted more information about supporting their children at home visited the website? More signposting needed.
General:

What we see from these results:
This is overwhelmingly a positive picture, BUT these negative responses cause the most concern.
What we can do following these results:
We would strongly recommend that the parents who do not feel the school is meeting their child's needs make an appointment to talk to the senior leadership of the school. Although these responses are in a very small minority, the staff work hard for our pupils and families. Either we need to do something different or we have to agree that this school is not the place that will be able to deliver what these parents are looking for. We are quite prepared to review and change our practise when it is needed-but rarely there could be times where the change that is needed is that we agree that another school for their child could be more appropriate. We never want this to happen but without the school and home working in collaboration at all times, this will not be as successful as it might be for the child.
The following is a document with all the parent comments-both positive and developmental-we are working together for our children.